News
Latest updates from the campaign:
Wednesday, December 6, 2017 12:01 AM
Runoff Results
I want to thank everyone who turned out to vote. It was very close, 750 - 735. I am looking forward to serving for another four years. Joe Sawyer ran a good campaign. I sincerely hope he will continue to be involved in our community.
---
Wednesday, December 6, 2017 12:00 AM
CineStage Atlanta, located off Jimmy Carter Boulevard just east of Peachtree Industrial Boulevard, recently opened its doors. A full-service production studio, owned by Laura Huber, Matt Green, Roman Weaver and Matthew McGahren, the film studio was designed with independent filmmakers in mind.
---
Tuesday, November 7, 2017 10:02 PM
Election Results
From Judy Putnam:
Councilmember Jeanne Aulbach and candidate Joe Sawyer are headed to a runoff in the race for the Post 4 council seat. Aulbach finished with 894 votes; Sawyer finished with 780 votes. Luke Crawford, who also ran for the Post 4 seat, finished in third with 369 votes.
Though Aulbach finished with the most votes, she did not receive more than half of all votes cast, setting up a runoff election with Sawyer on December 5.
City Councilmembers Eric Christ (Post 2) and Weare Gratwick (Post 6), ran unopposed, both will serve four more years in their respective posts.
The unofficial vote figures are according to Elections Superintendent Kym Chereck.
---
Wednesday, November 1, 2017 7:18 AM
Compare and Contrast Post 4 Candidates
I thought I would share some links so you can compare the candidates for the Post 4 council seat.

Peachtree Corners Elections Information
Peachtree Corners Ballot Committee *
---
Wednesday, November 1, 2017 12:00 AM
If you were unable to attend the candidate forum, you can watch it in full here. Thanks again to UPCCA for hosting this and making the video available so all can watch and compare the candidates.
---
Friday, October 27, 2017 12:00 AM
The city has begun work on a city wide trail system. While this will take many years to complete, work has begun on the first section running through Technology Park. We are looking for a great name for our trails. This is an opportunity to have input into the naming process.
---
Thursday, October 26, 2017 9:56 AM
UPCCA Land Use Meeting - November 6 - Peachtree Corners Baptist Church
A note from Alex Wright about this rezoning application:
The UPCCA just announced a Land Use Meeting on 6 November at PCBC.

Below is a map of the impacted area. The boundaries are approximate. The red area is the proposed development. Please read the more detailed info from UPCCA further down in the email but the jist of the proposed development is 169 apartments and a hotel in the red area.

A little history
The developer for this proposal is Charlie Roberts. Mr. Roberts is the individual that sued (and won) Gwinnett County back around 2000 to have the land where the Town Center is going, zoned for apartments. He sat on that land until 2012 when he sold it to Lennar who was going to build apartments until the City bought it from Lennar in 2013 to prevent those apartments from being built. This led to the creation of the Town Center. Mr. Roberts is now proposing to build apartments on land next to the Town Center.

I would strongly encourage you to attend this meeting on 6 November and to share this information with your neighbors.

Regards
Alex Wright
City Council - Post 3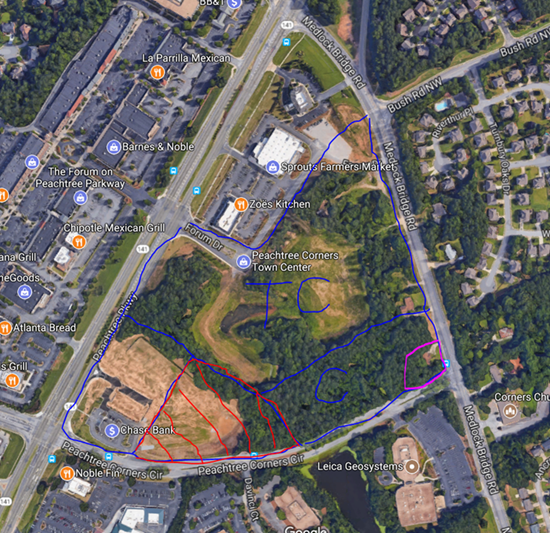 ---
Thursday, October 26, 2017 12:00 AM
The Peachtree Corners City Council recently approved the 2017-2022 Economic Development Plan. The council, city staff, and Downtown Development Authority worked in conjunction with citizen input to develop the plan. Economic Development Specialist Jennifer Howard compiled the results from 259 surveys from businesses (about 11 percent) and interviewed 10 of the city's top employers to help shape the plan.
You can read more about Peachtree Corners Economic Development here https://www.peachtreecornersga.gov/businesses/economic-development.
---
Sunday, October 22, 2017 9:52 AM
I was very excited to attend the Annual Environmental Address and Luncheon hosted by Gwinnett Clean & Beautiful. Especially when we were honored with this award. The city's Green Committee was founded on my initiative with assistance from the Mayor, my fellow council members and our great staff. This committee was instrumental in achieving our Green Communities Certification. The city has implemented other initiatives as well, leading to the Green Government award.
---
Sunday, October 22, 2017 12:00 AM
Additional 2017 Sidewalk Projects (from the City Newsletter)
Good news, additional sidewalks are planned for Peachtree Corners in 2017. Following are four projects that will add nearly 2,600 feet by the end of the year.
1. Peachtree Corners Circle – approximately 2,000 feet of sidewalk will run from Peachtree Parkway (near Noble Fin restaurant) to the intersection of Medlock Bridge Road.
2. Corners Parkway – approximately 1,300 feet of sidewalk will be installed from Crooked Creek to Kiveton; additionally 1,300 feet of sidewalk will be installed from Woodhill Drive to Holcomb Bridge Road.
3. Technology Parkway South – Nearly 2,400 feet of sidewalk is scheduled to be installed from the corner of Technology Parkway to Peachtree Industrial Boulevard.
4. Frank Neely Road – A new sidewalk will be installed between Dove Field Court and Spalding Drive.
---
Sunday, October 22, 2017 12:00 AM
More 141/Peachtree Industrial Blvd News
Many of you have seen the improvement in southbound traffic at Holcomb Bridge from the addition of a merge ramp onto 141/PIB. You have also observed progress being made by the state at the I-285 eastbound ramp at 141/PIB. Work there is expected to be completed in February 2018. The city is in negotiations with other highway authorities to widen 141/PIB to four lanes in both directions between I-285 and Jimmy Carter Blvd. Once complete, this should greatly relieve congestion in that corridor. There is no date yet for this project but I will keep you posted as we get more information.
---
Sunday, October 22, 2017 12:00 AM
This was a big step forward in creating an Innovation Hub in Technology Park. The need for Millennial/Workforce Housing in Technology Park was brought to our attention first by Tech Park businesses who need young tech workers. The need was also highlighted in our Livable City Initiative study. This project will open up the lakes in Tech Park to our community. Land was also contributed to our planned trail system.
---
Tuesday, October 3, 2017 12:00 AM
The City of Peachtree Corners has received the 2017 Pinnacle Awards Competition for best website by the National Association of Government Web Professionals (NAGW). The organization selects winners by category based on population. The City of Peachtree Corners took top honors for the 40,001-95,000 population category.
---
Tuesday, September 26, 2017 12:00 AM
Partnership Gwinnett and CGS — "a global provider of business applications , enterprise learning and outsourcng services" — announced Monday that the latter had moved to the city of Peachtree Corners. CGS' Atlanta-area location was previously in the Perimeter Center area.
---
Sunday, September 24, 2017 12:00 AM
Atlanta Tech Park, a business accelerator, will open Oct, 2 and offer programs for "enterprises that have passed the incubator startup stage." The new 43,000-square-foot co-working space, located at 107 Technology Parkway in Peachtree Corners, offers coaching, mentoring, advising and software application development.
---
Thursday, September 21, 2017 12:00 AM
Work is underway to transform a famous but aging office park in Peachtree Corners into a center for business innovation.
Technology Park Atlanta (nicknamed "Tech Park") was established in 1968 as the office component of Peachtree Corners, the mixed-use planned community in Gwinnett County created by Atlanta real estate icon Paul Duke.
---
Thursday, September 14, 2017 12:00 AM
Peachtree Corners will offer free debris pickup for residents on Monday, Sept. 18, after Tropical Storm Irma downed trees and branches all over metro Atlanta.
---
Friday, September 8, 2017 12:00 AM
Peachtree Corners draws more business, renovating buildings follow
---
Friday, September 8, 2017 12:00 AM
Great news about our Town Center.
---
Friday, September 8, 2017 12:00 AM
Prototype Prime, the city's high tech business incubator offers more than co-working space!
---
Wednesday, April 4, 2012 2:27 PM
And another election result article in the Gwinnett Daily Post.
---
Wednesday, April 4, 2012 2:24 PM
Here is an article on the election results from the Patch. We had just gotten the final results!
---
Tuesday, April 3, 2012 9:10 PM
Thanks to everyone who supported and helped me through this journey. We made it to the finish line and we won! What a journey! And it isonly beginning.
---
Friday, March 30, 2012 10:32 AM
An open letter from Alex Wright and me opposing House Bill 956 authorizing additional Berkeley Lake annexations
---
Friday, March 30, 2012 10:27 AM
Reflections on my first campaign - a new blog post on the Patch
---
Friday, March 9, 2012 9:41 AM
The election results are in. I am in runoff. I will need your help in the coming weeks and your vote on April 3rd.
---
Thursday, March 1, 2012 3:51 PM
Latest blog, this time discussing Code Compliance
---
Thursday, March 1, 2012 2:09 PM
Here is an article in the Gwinnett Daily Post on the recent City COuncil Candidate Forums.
---
Wednesday, February 22, 2012 1:03 PM
I blogged about Planning and Zoning, the process involved whan a change is requested to existing zoning.
---
Wednesday, February 22, 2012 1:01 PM
Here is a blog that talks about property taxes and franchise fees and how they will impact you.
---
Monday, February 6, 2012 10:56 AM
A blog on my campaign.
---
Monday, February 6, 2012 10:14 AM
Blog on the Patch on the recent UPCCA Candidate Forums
---
Monday, January 30, 2012 8:10 AM
Here is an interview with the AJC.
---
Monday, January 30, 2012 8:08 AM
Jeanne recently responded to the Peachtree Corners Life Questionnaire.
---
Monday, January 30, 2012 8:06 AM
Jeanne responded to the questionnaire from the Peachtree Corners Ballot Committee.
---
Thursday, December 8, 2011 12:47 PM
Jeanne recently responded to a the Peachtree Corners Patch candidate questionnaire .